Photographer of the American Southwest 

September 2013 Newsletter - Issue #14
Ghost Ranch Panorama
My road trips for the month of August were diverse and varied. The main trip was going to and from Denver. Our drive up included beautiful end of day light over La Veta, Colorado punctuated by a lightning storm to beat all lightning storms east of Pueblo, CO. The next day we drove east of Denver through the rolling hills and flat plains of Limon and Kiowa, CO. and again some beautiful end of day light. The trip back to Taos then took us through the Rockies, visiting such places as Fairplay, Como, Guffey and Salida, Colorado. Other shorter day trips throughout the month had us ending up in places like Los Hueros, Ghost Ranch, Ocate, Cimarron, Black Lake and Cerrillos, NM. Needless to say, the photo opportunities were endless and I loved every minute.

August wasn't just road trips, but also included some visits from old and new friends. Thank you to Joseph and Elizabeth MacKenzie for introducing us the Fr. Vili who had come all the way from Finland to visit New Mexico. Also a big thank you to Larry and Janette Williams from California for stopping by to see my work and the great visit we had.

Last month was a great photographic month and now I look forward to the end of summer and the aspen and cottonwood color that will popping up in the mountains around here. 

For those of you on Facebook I hope you will check out and "Like" my page. Click on the icon below to be taken to the Steven Bundy Photography page. There are images that I post on Facebook that do not make it to my newsletter or web page including a couple recently of a spectacular lightning storm west of Taos.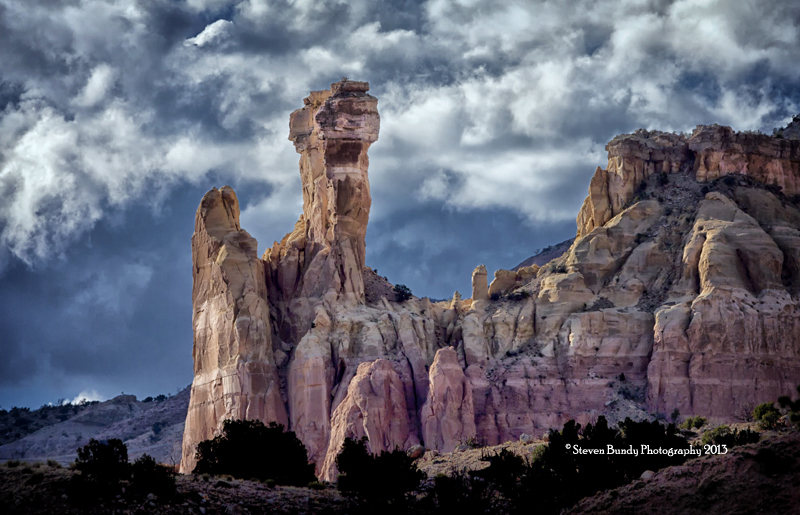 Chimney Rock
Evening Light

Our last Sunday drive took us from south of Santa Fe up to Ocate and then back home to Taos by 9:30 pm. A total of around 350 miles. Not bad considering we didn't get started until around lunch time. I photographed a roping competition at Clint Mortensen's ranch, then up to Wagon Mound for some buffalo and ended in Los Hueros where this image was taken. The funny part about this image was I had a very pissed off bull huffing & puffing at me and dragging his front feet just like in the cartoons before a charge. He was probably 100 yards away at first and behind a fence, but a typical old wood branch & barb wire New Mexico fence. Once he started really making a yelping sound and got within about 30 feet of me......I told him "You win, I'm outta here", got in the car and drove away. But the light was really amazing....... 

If you would like to purchase a print of this image or would like to see others in my "Photo of the Week" series, click HERE .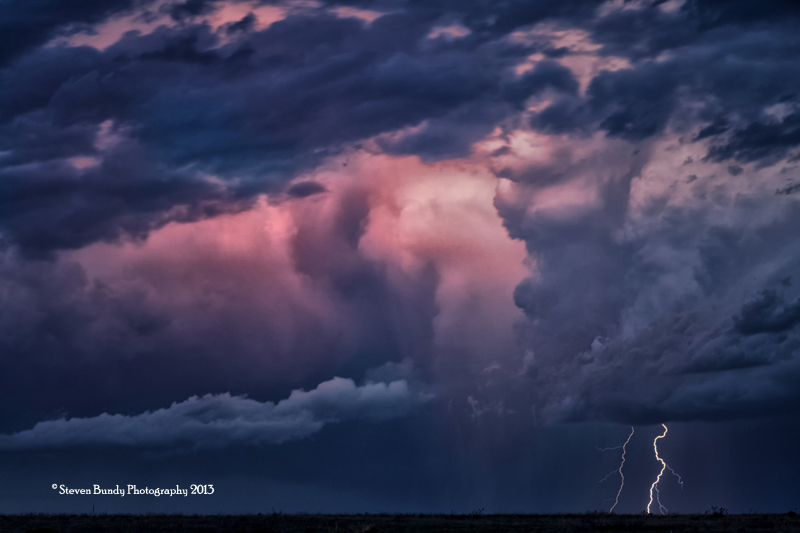 Sunset Lightning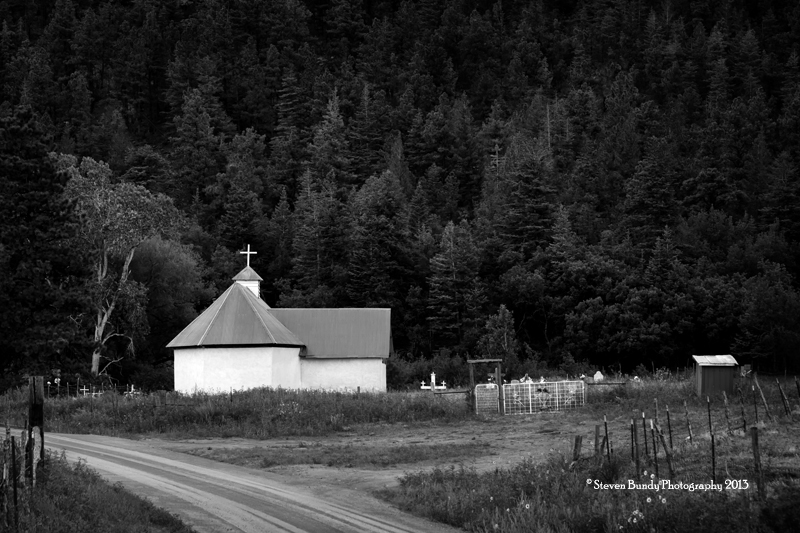 San Juan Batista
Full and half day photo tours are available in and around northern New Mexico. Each of the full day tours will start at approximately 9:00 am and run past sunset (weather permitting) and will begin and end at my studio in Taos (We can meet in Santa Fe, if needed).
Half day tours can begin either in the morning or in the afternoon, depending upon your preferences. There are no specific photographic abilities required for these tours other than a general knowledge of your camera. Of course, if needed, I will help you to better understand your specific camera (please bring your manual). My intention with the tours is to show you the unique beauty of Northern New Mexico and to have you return home with wonderful images and memories that you've created. If you are coming to Taos or Santa Fe in the near future and would like to have a fun, creative experience please call and lets plan a tour geared to your specific interests. I'm happy to plan a tour for one person or for a group of up to 4. Contact me with any of the contact information methods (at end of newsletter) to schedule a tour during your next vacation to New Mexico.
Below is an interview I gave a few weeks back to Santa Fe Creative Tourism 
about my photography and the photo tours I offer through them. You can read 
the text below or click HERE to see the online version: 

Santa Fe Creative Tourism is proud to present Steven Bundy Photo Tours, full and half-day 
tours in and around northern New Mexico. 

For more information, please visit stevenbundy.com 
or santafecreativetourism.org 


A Different Side of Americana: Photography Tours with Steven Bundy
by Luke Fannin
New Mexico photographer Steven Bundy has been taking pictures for more than 40 years, 
since receiving his first Pentax, a gift from a friend returning from Vietnam. Though 
he worked primarily in film most of that time, in 2005 he realized his civil engineering 
background, which included over 20 years of computer experience, made him well-suited 
to digital photography, and since trying it out has never looked back. Primarily self-taught, 
Mr. Bundy went from taking photography workshops to teaching them (and even partially 
owning a photography workshop group) in a very short period of time, and now uses that 
experience in leading his own private photography tours of Northern New Mexico.
If Mr. Bundy has a photographic specialty, it could probably be best described as rural 
Americana: old buildings, rusted out cars, beat-up signs, and classic Route 66 images. 
"People always ask me what kind of photographer I am," he says, searching for a way to 
describe himself. "If I see it and I like it, that's it. I don't like portrait photography, 
or really anything in the studio. I love being out on the back roads of … anywhere. That's 
why I love New Mexico — there's so many back roads." Mr. Bundy grew up in Indiana and 
spent much of his adult life in San Diego. Getting out on the back roads in the 
midwest, or California's Central Coast, he says, is much like getting out on the back 
roads of any other place. The overwhelming nostalgic appeal of his work, coming 
out of a background which nearly spans the country, is a testament to the little 
things — simultaneously quintessential and quaint — that unite our otherwise vast 
and diverse nation.
Mr. Bundy also manages his own photo blog, which provides his followers a slightly 
more casual, informal perspective on his work. His running commentary on his latest 
images is often as insightful as it is candid: among many other things, Mr. Bundy describes 
how the image of an old Ford Thunderbird (see the web page link by clicking HERE ), 
which he'd driven by regularly for severally years, finally came together for him, or 
the thought that went into weeks of planning for his shot of this past June's "super moon." 
It's easy to imagine these weekly updates as a small taste of the personalized insights 
one could expect to find in his photography tours.
And Mr. Bundy's photography tours are nothing if not personal. He usually only takes out 
one or two people at a time, and their itinerary is based entirely on the students' desires. 
"I find out what their interests are, what movies they've seen," he explains. "I like to take 
them out on some of the back roads, show them areas there's no way they'd ever find on 
their own." Mr. Bundy's artistic pursuits in photography have always been much 
more than technical or academic. Though he certainly takes the time to teach his 
students the basics of photographic composition and how to use their camera, 
it's clear his personal, artistic interests extend to his efforts as a teacher and guide 
of photography tours. "Everyone who has done it has had a blast," he says. "It's a very 
personalized experience. We get to be friends." 


Santa Fe Creative Tourism is a project of the City of Santa Fe Arts Commission. If you would like to take a workshop with Steven Bundy, or another of our 200+ artists, check out our calendar. Artists and 
organizations: click here  to list your workshops and other arts-related events, or to be a featured artist 
on our blog.