Photographer of the American Southwest 

November 2013 Newsletter - Issue #16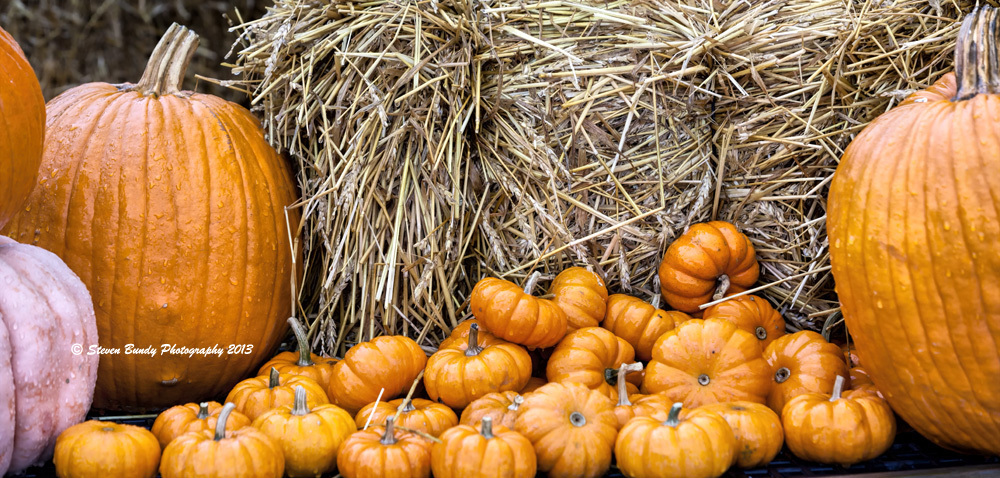 Harvest Pumpkins

October was a very busy month here at the studio. I had the largest amount of photo tours for one month since I started offering individual photo tours early last year. The wife & I also took a week to drive through and explore some areas of Colorado, Kansas, Oklahoma & Texas that I hadn't seen since I was a kid. And finally I made the purchase of a new Canon large format printer that will now allow me to expand some of my image offering sizes and avoid the use of outside printing services. All were exciting happening and seemed to make the month fly by. 

Below are each of my "Photo of the Week" images for the month of October. The first one is from a few years back but the rest represent places I traveled to during the month either on my own or with students of photo tours. The pumpkin scene above is from our drive through Council Grove, Kansas and reminds me of the upcoming holiday season which is why I decided to use it for my November newsletter header image. The narrow gauge train was from a day trip we took up north of Chama, New Mexico along the Cumbres & Toltec Railway. The black & white chapel image was along our "back road" route from Tucumcari to Taos at the end of our Kansas week long road trip. And the fall color tree in Plaza Blanca was taken during one of my photo tours. Also check out the Ghost Ranch sunset image at the bottom of the newsletter. It was taken during the same photo tour as the fall color tree.  

Finally I would like to thank Karen, Kathy, Linda, Larry, Wayne and Jane for all of the fun we had on our tours this last month. I hope you all came away with some fantastic images from our time out on the road and learned a little bit too. Thank you all. It was great fun to meet each of you and show you around this beautiful area. 

For those of you subscribers also on Facebook I hope you will check out and "Like" my Steven Bundy Photography page. Click on the icon below to be taken to my page. There are images that I post on Facebook that do not make it to my newsletter or web page including recent photo tours and a our trip to the Midwestern states and some Old US Route 66 sites.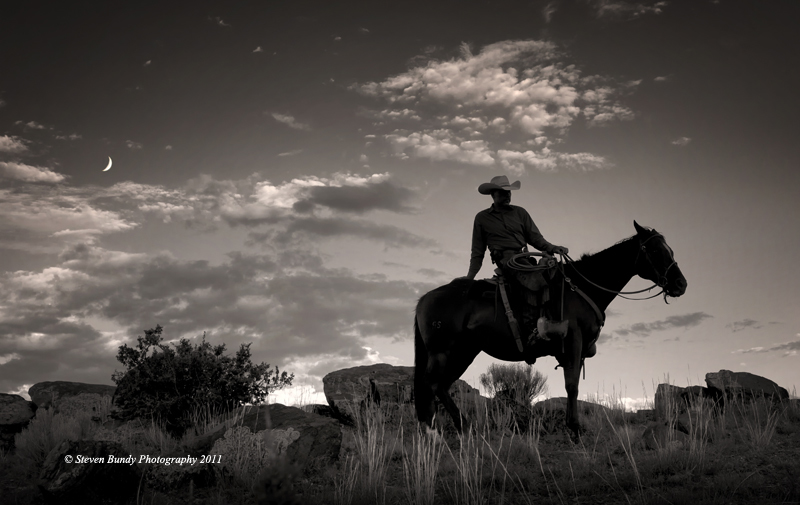 Cowboy Silhouette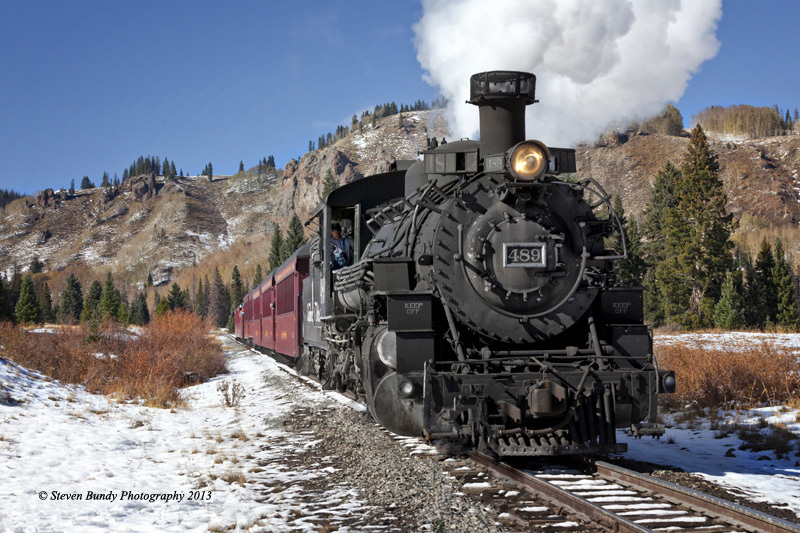 Narrow Gauge Train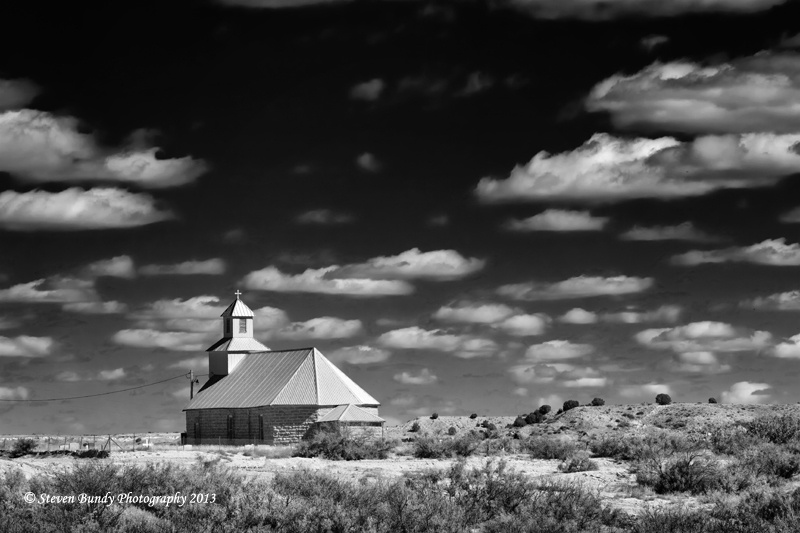 Gallegos Ranch Chapel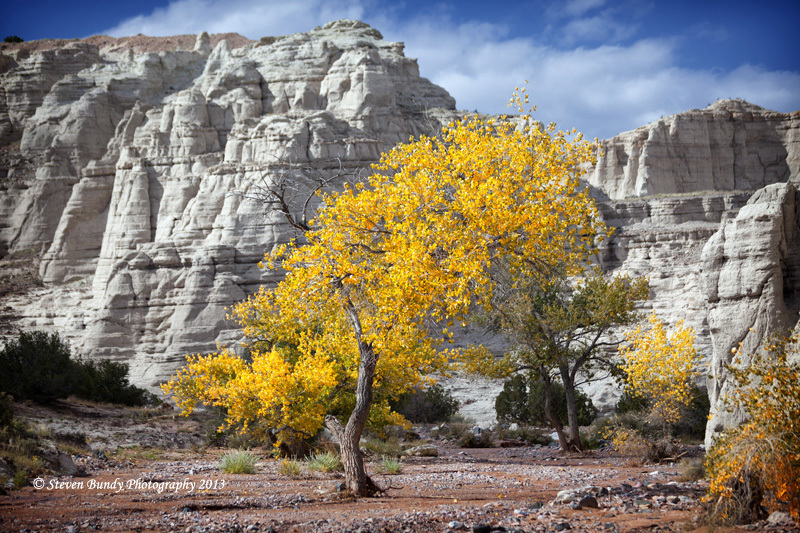 Fall Colors at Plaza Blanca
Full and half day photo tours are available in and around northern New Mexico. Each of the full day tours will start at approximately 9:00 am and run past sunset (weather permitting) and will begin and end at my studio in Taos (We can meet in Santa Fe, if needed).
Half day tours can begin either in the morning or in the afternoon, depending upon your preferences. There are no specific photographic abilities required for these tours other than a general knowledge of your camera. Of course, if needed, I will help you to better understand your specific camera (please bring your manual). My intention with the tours is to show you the unique beauty of Northern New Mexico and to have you return home with wonderful images and memories that you've created. If you are coming to Taos or Santa Fe in the near future and would like to have a fun, creative experience please call and lets plan a tour geared to your specific interests. I'm happy to plan a tour for one person or for a group of up to 4. Contact me with any of the contact information methods (at end of newsletter) to schedule a tour during your next vacation to New Mexico. 

Below is an image from a recent Photo Tour to Ghost Ranch: 


Ghost Ranch Sunset
New Book Release in January 
Sangre de Cristo the novel  by: Wesley Redfield 


My black & white images of the San Francisco de Asis church in Ranchos de Taos, New 
Mexico were chosen for the cover of a new novel written by Wesley Redfield to be available 
in January of 2014. Below is the pre-press release and a sample cover of the book. If you are 
interested in copy you can contact the author through the information below.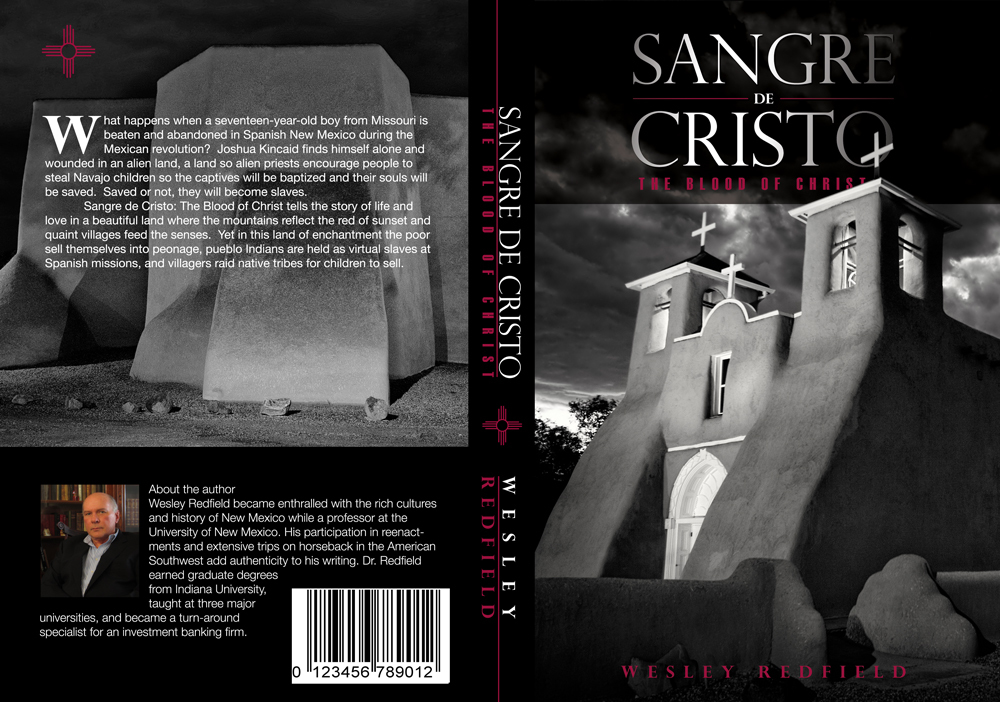 Wesley Redfield Book Cover 

Press Release

"Sangre de Cristo: The Blood of Christ" 
blows the lid off of the slave trade in Spanish New Mexico
What happens when a 17-year-old boy from Missouri is beaten and abandoned in Spanish New Mexico 
during the Mexican revolution? Joshua Kincaid finds himself alone and wounded in an alien land, a land 
so alien priests encourage people to steal Navajo children so they will be baptized and their souls will 
be saved. Saved or not, they will become slaves.
Sangre de Cristo: The Blood of Christ tells the story of life and love in a beautiful land where the 
mountains reflect the red of sunset and quaint villages feed the senses. Yet in this land of enchantment 
the poor sell themselves into peonage, pueblo Indians are held as virtual slaves at Spanish missions, and 
villagers raid native tribes for children to sell in Santa Fe, Taos, El Paso, and southern Mexico. 
Young Kincaid sees slavery and peonage at Spanish missions and haciendas. He is faced with the agonizing 
decision of watching his destitute benefactor Manuel sell his family, including Kincaid's lover, into peonage, 
or joining a slave raid to capture Navajo children to sell. Kincaid commits horrible acts and seeks redemption, 
particularly from the black American slave Joe. As Kincaid comes of age, his entrepreneurial spirit emerges, 
and he, Manuel, and Joe struggle to fight the cutthroat competition in St. Louis and on the Santa Fe Trail.
Wesley Redfield became enthralled with the rich cultures of New Mexico and the state's often tragic history 
while a professor at the University of New Mexico. His participation in reenactments and long travels on 
horseback add authenticity to his writing. For review copies contact:
Land of Enchantment Press 
Westminster, CO 80031 
303-437-9538 
www.wesleyredfield.com 
Upcoming or Current Exhibitions and Where to go to see my Work: 

Albuquerque Photograpers Gallery Juried Show "The Way I See It"  - October 4 through November 15 - 303 Romero Street NW, Suite N208, Albuquerque, New Mexico. Click HERE  to go to the web site   for a listing of displaying artists and a sample of the images.
Inspirations 2013 Art Show  - November 1 through December, 2013 
Classic Bean - 2125 SW Fairlawn Plaza Drive, Topeka KS 66614 
NexLynx - 123 SW 6th Ave., Suite 100, Topeka, KS 66603 
Warehouse 414 Gallery - 414 SE 2nd St, Topeka, KS 66607 
Opening Reception @ Warehouse 414 and NexLynx - Nov 1st, 5-8pm 

Panterra Gallery - Represents photographer's work - 22 Main Street, Bisbee, Arizona. Click HERE to go to web site.